From Salerno to Sorrento: the whole Amalfi Coast on foot!
The Amalfi Coast is one of the most spectacular coastal landscapes in the world and a true hiker's paradise! It is all the more surprising that hiking tourism is currently almost exclusively limited to a short section, the "Sentiero degli Dei" (Path of the Gods).
For hikers with an affinity for altitude, there is still a lot to discover off the "Sentiero degli Dei": large parts of the Amalfi Coast hiking trail described here are characterised by solitude, nature and tranquillity! Steep paths and stairways with views of the deep blue sea and small villages with extremely picturesque church towers alternate with flat paths through vineyards, olive groves and lemon plantations. True highlights are the views of the surrounding islands and mountains: depending on the stage, either Vesuvius, the Gulf of Naples or the island of Capri can be seen in good weather.
The hiking trail described here leads in six quite strenuous daily stages from Salerno in the east to Sorrento in the west of the Amalfi Coast and runs in large parts along the CAI 300 hiking trail or along its many side trails, which also have CAI numbers in the 300 range. The hiking trails are managed by the Italian Alpine Club "CAI - Club Alpino Italiano" and are marked in red and white.
Many metres in altitude, little luggage and "Dolce Vita" every evening
We love hiking holidays with lots of altitude, little luggage and beautiful accommodation!
And for the latter, too, the Amalfi Coast with its many, partly very lovingly run guesthouses and bed & breakfasts is just ideal! We hiked the route in May 2016 and were thrilled!
After we received so much positive feedback a few years ago on a hiking proposal we had prepared on La Gomera (www.rundwanderung-lagomera.de), we have also created a hopefully informative website for this hiking trail along the Amalfi Coast.
Have fun re-hiking!
Frank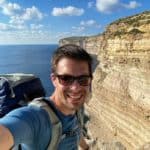 The long-distance hiking trail in the press | PDF hiking maps at www.wanderndeluxe.de